In 2018, the Bucharest SPOTLIGHT Light Festival brought together Romanian artists for an open-air visual arts celebration in the capital city. The festival showcased 27 artistic installations, video mapping projections, holograms, exhibitions, and interactive installations, all of which told the story of Romania in a special and unique way. The festival's theme, "United we shine," was in honor of the 100th anniversary of Romania's unification.
As part of the festival, Pronorm was proud to participate in several of the event's stunning visual displays. The Palatul Stirbei building's front façade was illuminated in the colors of the Romanian flag, showcasing the architectural elements in new splendor. The famous concert hall, Ateneul Roman, was opened up to the public in a unique way by using projection mapping to display the beauty of its interior on the outside. Viewers were able to see hidden treasures of the hall that are usually not open to the public.
The Ministry of Interior Affairs was lit in the colors of the Romanian national flag for the first time, following the motto "Romania 1918-2018 | We celebrate together." Historical pictures were used to emphasize the architecture of the building through a dynamic Centenary themed projection. Piata Universitatii, located on Regina Elisabeta Boulevard 5, was the location of two types of projections during the festival. The first projection showcased the building's architecture using a harmonic light composition that carved out many details of the façade. The second design on the Banca Comerciala Română building celebrated the Spotlight theme of "United We Shine" by projecting a dynamic light and color display in honor of the Romanian Centenary.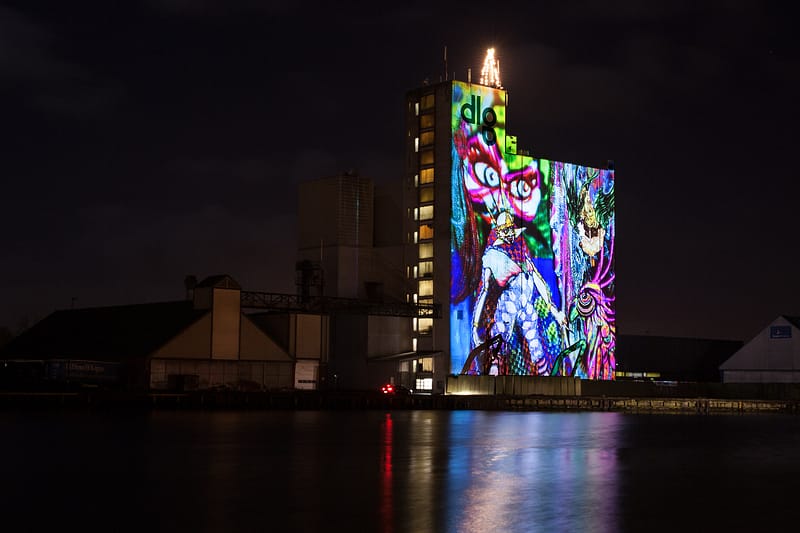 Discover the Magic of Kolding Light Festival – an Annual Celebration of Mesmerizing Light and Sound Displays! Kolding Light Festival is an unmissable annual event
The Kolding Light Festival of 2017 was a highly anticipated event in the beautiful city of Kolding, Denmark. For several days, the festival offered a
For four glorious nights, from the 16th to the 19th of February 2023, the Belgian capital was immersed in the enchanting glow of the Bright