In the silent nights of Vienna, the Leopold Museum transformed into an enchanting storyteller of art and history. Pronorm, the pioneer in spectacular light projections, played a crucial role in this story. In a collaboration that pushed the boundaries of creativity and technology, Pronorm brought the façade of the Leopold Museum to life with breathtaking projections that highlighted the announcement and promotion of various exhibitions.
At Pronorm, we believe in the power of light to tell stories, evoke emotions and transform environments. In line with this vision, we seized the opportunity to apply our expertise to one of Vienna's most iconic cultural venues. The Leopold Museum, known for its rich collection of Viennese art and Art Nouveau masterpieces, offered us an inspiring canvas to work with.
One of the remarkable projections brought life and colour to the façade of the Leopold Museum to announce the "JUGENDSTIL PUR! JOSEF MARIA AUCHENTALLER" exhibition. The facade became a canvas on which the essence of Jugendstil, an artistic movement full of elegance and flowing lines, came to life. Passers-by were treated to a taste of the splendour the exhibition promised.
Another unforgettable projection immortalised the grandeur of Erich Lessing in the "KARAJAN" exhibition. It was as if the walls of the museum itself embraced the legendary conductor, as images and light merged into a tribute to his extraordinary contribution to the world of music. It was a spectacular way to draw attention to an exhibition that captured the essence of musical genius.
Bridging past and present, these projections not only brought attention to the exhibitions, but also created a special experience for visitors and passers-by. Pronorm's contribution to these projections is vivid evidence of our commitment to uniting art and technology in innovative ways.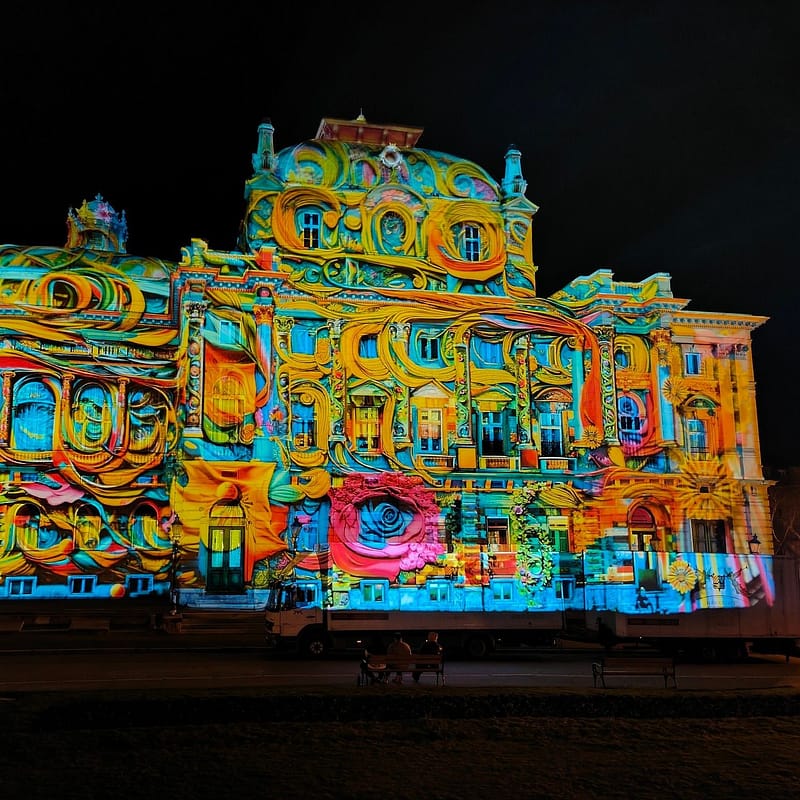 As the days grew longer and the warmth of spring permeated the air, Zagreb eagerly welcomed the Festival of Lights, a joyous celebration of light
In 2013, the Joods Cultureel Kwartier participated in the Amsterdam Light Festival where the historical center of Amsterdam was transformed into an international light and
Lumina Festival of Light is an international event that showcases the best of light art and installations. Starting in Sintra, Portugal in 2011, Lumina moved